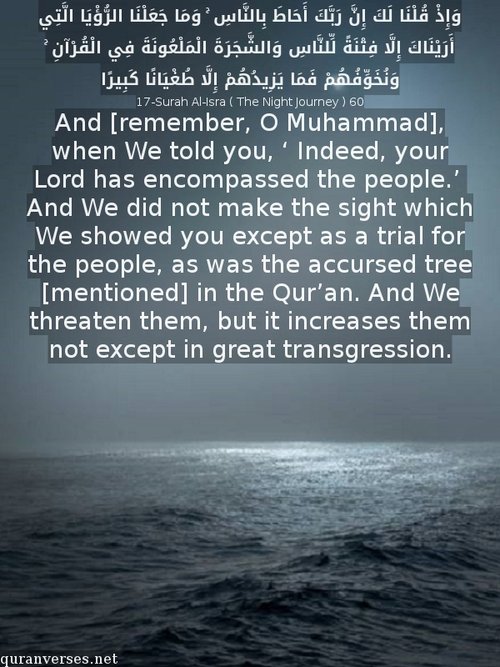 17-Surah Al-Isra ( The Night Journey ) 60
And [remember, O Muhammad], when We told you, ' Indeed, your Lord has encompassed the people.' And We did not make the sight which We showed you except as a trial for the people, as was the accursed tree [mentioned] in the Qur'an. And We threaten them, but it increases them not except in great transgression.
وَإِذْ قُلْنَا لَكَ إِنَّ رَبَّكَ أَحَاطَ بِالنَّاسِ ۚ وَمَا جَعَلْنَا الرُّؤْيَا الَّتِي أَرَيْنَاكَ إِلَّا فِتْنَةً لِّلنَّاسِ وَالشَّجَرَةَ الْمَلْعُونَةَ فِي الْقُرْآنِ ۚ وَنُخَوِّفُهُمْ فَمَا يَزِيدُهُمْ إِلَّا طُغْيَانًا كَبِيرًا
Quran's Tafhim ( explanation)
*70)
That is, "At the very beginning of your Prophethood, when the disbelievers of the Quraish had started opposition to your message, We declared that We are encircling them. They might try their worst to obstruct your Message, but they will inevitably fail in this and your Mission will succeed in the teeth of opposition. Can't they see that this declaration has come out true as a miracle, for their opposition has failed to hinder your Message, and they have not been able to do any harm to you at all ? This was a clear Sign of the fact that the Mission of the Holy Prophet was being supported by the Almighty God. "
As regards the declaration that Allah is encircling the disbelievers and helping he mission of the Prophet, it occurs in several Surahs of the first stage of Prophethood at Makkah. For instance, in'vv. 17-20 of LXXV, Allah says, "These disbelievers do not learn a lesson from the stories of the people of the Pharaoh and Thamud but are rejecting the Message hereas Allah is encircling them on all sides. "
*71)
This refers to Mi`raj (Ascension) for here word "ru'ya " does not mean "seeing things in a dream" but seeing things actually with physical eyes. It is quite obvious that if it had been a mere "dream" and the Holy Prophet had presented it as a dream to the disbelievers, there was no reason why it should have become a trial for them. Everyday people see strange dreams and relate them to the people but these dreams never become such a curious thing as to make people scoff at the dreamer and accuse him of making a false claim or of being a mad person.
*72)
This cursed tree, Az-Zaqqum " which has been mentioned in vv 43-4 of Surah XLIV, grows at the bottom of Hell and its dwellers shall have to eat it. This has een called a cursed tree because it is not given to people to eat as a mercy rom Allah but as a symbol of His curse so that the accursed people should eat it and get more sore, for this will, so to speak, burn in their bellies like the boiling water.