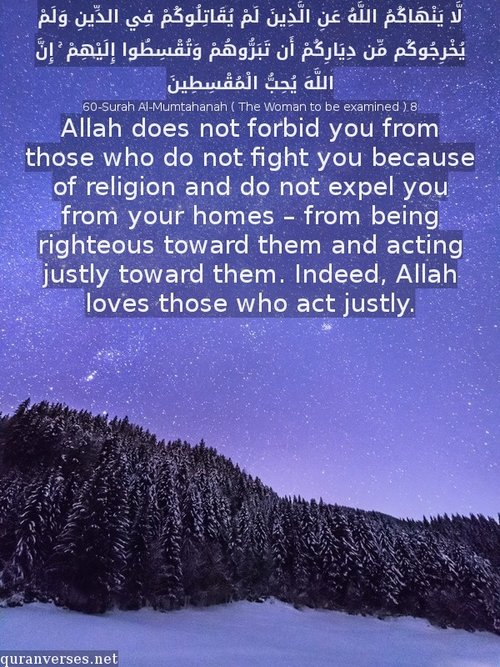 60-Surah Al-Mumtahanah ( The Woman to be examined ) 8
Allah does not forbid you from those who do not fight you because of religion and do not expel you from your homes – from being righteous toward them and acting justly toward them. Indeed, Allah loves those who act justly.
لَّا يَنْهَاكُمُ اللَّهُ عَنِ الَّذِينَ لَمْ يُقَاتِلُوكُمْ فِي الدِّينِ وَلَمْ يُخْرِجُوكُم مِّن دِيَارِكُمْ أَن تَبَرُّوهُمْ وَتُقْسِطُوا إِلَيْهِمْ ۚ إِنَّ اللَّهَ يُحِبُّ الْمُقْسِطِينَ
Quran's Tafhim ( explanation)
*12)
Here a doubt may arise in the minds. It is all right to treat the disbelievers, who are not hostile, kindly, but should only they be treated un-justly? And should the disbelievers, who arc hostile, be treated un-justly? The answer is that in this context, the word justice, in fact, has been used in a special sense. It means: "Justice demands that you should not be hostile to those who are not hostile to you, for it is not justice to treat the enemy and the non-enemy alike. You have every right to adopt a stem attitude towards those who persecuted you for embracing Islam and compelled you to leave yew homes and pursued you even after your expulsion. But as for those who were not partners in persecuting you, you should treat them well and should fulfil the right they have on you because of blood and other relationships. "