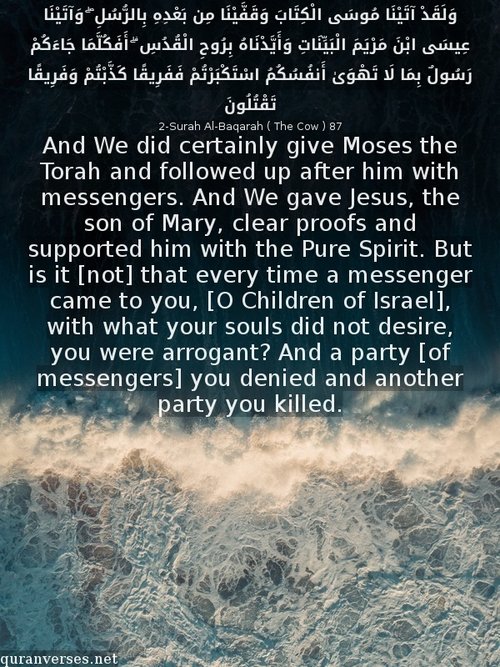 2-Surah Al-Baqarah ( The Cow ) 87
And We did certainly give Moses the Torah and followed up after him with messengers. And We gave Jesus, the son of Mary, clear proofs and supported him with the Pure Spirit. But is it [not] that every time a messenger came to you, [O Children of Israel], with what your souls did not desire, you were arrogant? And a party [of messengers] you denied and another party you killed.
وَلَقَدْ آتَيْنَا مُوسَى الْكِتَابَ وَقَفَّيْنَا مِن بَعْدِهِ بِالرُّسُلِ ۖ وَآتَيْنَا عِيسَى ابْنَ مَرْيَمَ الْبَيِّنَاتِ وَأَيَّدْنَاهُ بِرُوحِ الْقُدُسِ ۗ أَفَكُلَّمَا جَاءَكُمْ رَسُولٌ بِمَا لَا تَهْوَىٰ أَنفُسُكُمُ اسْتَكْبَرْتُمْ فَفَرِيقًا كَذَّبْتُمْ وَفَرِيقًا تَقْتُلُونَ
Quran's Tafhim ( explanation)
*93)
. The 'spirit of holiness' signifies the knowledge derived through revelation. It also signifies the angel Gabriel who brought this revelation. It also denotes the holy spirit of Jesus, the spirit which God had endowed with angelic character.
The expression 'clear proofs' refers to those signs which are likely to convince a truth-seeking and truth-loving person that Jesus is a Prophet of God.