Verses from the Book of Allah on Listen to unbelief Arranged in the order of the descent of the fence and accompanied by a simple interpretation, as well as with the possibility of listening to it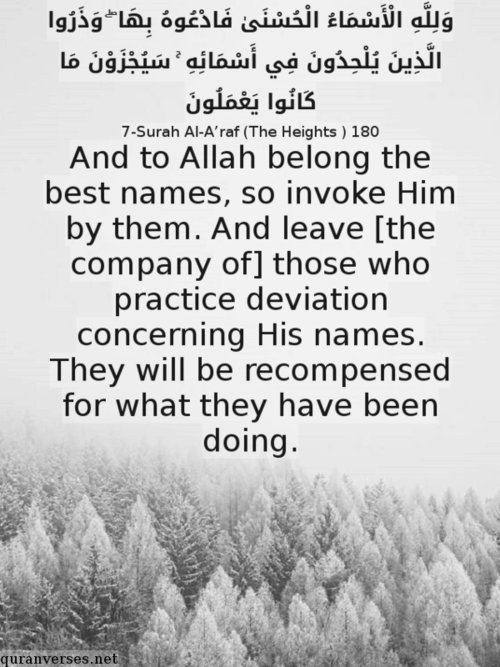 7-Surah Al-A'raf (The Heights ) 180
And to Allah belong the best names, so invoke Him by them. And leave [the company of] those who practice deviation concerning His names. They will be recompensed for what they have been doing.
وَلِلَّهِ الْأَسْمَاءُ الْحُسْنَىٰ فَادْعُوهُ بِهَا ۖ وَذَرُوا الَّذِينَ يُلْحِدُونَ فِي أَسْمَائِهِ ۚ سَيُجْزَوْنَ مَا كَانُوا يَعْمَلُونَ
6-Surah Al-An'am ( The Cattle ) 68-70
And when you see those who engage in [offensive] discourse concerning Our verses, then turn away from them until they enter into another conversation. And if Satan should cause you to forget, then do not remain after the reminder with the wrongdoing people.
وَإِذَا رَأَيْتَ الَّذِينَ يَخُوضُونَ فِي آيَاتِنَا فَأَعْرِضْ عَنْهُمْ حَتَّىٰ يَخُوضُوا فِي حَدِيثٍ غَيْرِهِ ۚ وَإِمَّا يُنسِيَنَّكَ الشَّيْطَانُ فَلَا تَقْعُدْ بَعْدَ الذِّكْرَىٰ مَعَ الْقَوْمِ الظَّالِمِينَ
And those who fear Allah are not held accountable for the disbelievers at all, but [only for] a reminder – that perhaps they will fear Him.
وَمَا عَلَى الَّذِينَ يَتَّقُونَ مِنْ حِسَابِهِم مِّن شَيْءٍ وَلَٰكِن ذِكْرَىٰ لَعَلَّهُمْ يَتَّقُونَ
And leave those who take their religion as amusement and diversion and whom the worldly life has deluded. But remind with the Qur'an, lest a soul be given up to destruction for what it earned; it will have other than Allah no protector and no intercessor. And if it should offer every compensation, it would not be taken from it. Those are the ones who are given to destruction for what they have earned. For them will be a drink of scalding water and a painful punishment because they used to disbelieve.
وَذَرِ الَّذِينَ اتَّخَذُوا دِينَهُمْ لَعِبًا وَلَهْوًا وَغَرَّتْهُمُ الْحَيَاةُ الدُّنْيَا ۚ وَذَكِّرْ بِهِ أَن تُبْسَلَ نَفْسٌ بِمَا كَسَبَتْ لَيْسَ لَهَا مِن دُونِ اللَّهِ وَلِيٌّ وَلَا شَفِيعٌ وَإِن تَعْدِلْ كُلَّ عَدْلٍ لَّا يُؤْخَذْ مِنْهَا ۗ أُولَٰئِكَ الَّذِينَ أُبْسِلُوا بِمَا كَسَبُوا ۖ لَهُمْ شَرَابٌ مِّنْ حَمِيمٍ وَعَذَابٌ أَلِيمٌ بِمَا كَانُوا يَكْفُرُونَ
4-Surah An-Nisa ( The Women ) 140
And it has already come down to you in the Book that when you hear the verses of Allah [recited], they are denied [by them] and ridiculed; so do not sit with them until they enter into another conversation. Indeed, you would then be like them. Indeed Allah will gather the hypocrites and disbelievers in Hell all together –
وَقَدْ نَزَّلَ عَلَيْكُمْ فِي الْكِتَابِ أَنْ إِذَا سَمِعْتُمْ آيَاتِ اللَّهِ يُكْفَرُ بِهَا وَيُسْتَهْزَأُ بِهَا فَلَا تَقْعُدُوا مَعَهُمْ حَتَّىٰ يَخُوضُوا فِي حَدِيثٍ غَيْرِهِ ۚ إِنَّكُمْ إِذًا مِّثْلُهُمْ ۗ إِنَّ اللَّهَ جَامِعُ الْمُنَافِقِينَ وَالْكَافِرِينَ فِي جَهَنَّمَ جَمِيعًا