Verses from the Book of Allah on Christians Claim that Allah had a son Arranged in the order of the descent of the fence and accompanied by a simple interpretation, as well as with the possibility of listening to it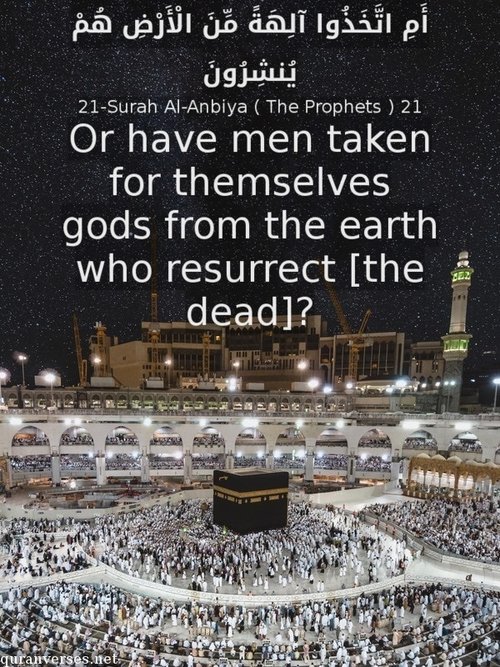 19-Surah Maryam ( Mary ) 88
And they say, ' The Most Merciful has taken [for Himself] a son.'
وَقَالُوا اتَّخَذَ الرَّحْمَٰنُ وَلَدًا
21-Surah Al-Anbiya ( The Prophets ) 21
Or have men taken for themselves gods from the earth who resurrect [the dead]?
أَمِ اتَّخَذُوا آلِهَةً مِّنَ الْأَرْضِ هُمْ يُنشِرُونَ
2-Surah Al-Baqarah ( The Cow ) 116
They say, ' Allah has taken a son.' Exalted is He! Rather, to Him belongs whatever is in the heavens and the earth. All are devoutly obedient to Him,
وَقَالُوا اتَّخَذَ اللَّهُ وَلَدًا ۗ سُبْحَانَهُ ۖ بَل لَّهُ مَا فِي السَّمَاوَاتِ وَالْأَرْضِ ۖ كُلٌّ لَّهُ قَانِتُونَ
9-Surah At-Taubah ( The Repentance ) 30
The Jews say, ' Ezra is the son of Allah ' ; and the Christians say, ' The Messiah is the son of Allah.' That is their statement from their mouths; they imitate the saying of those who disbelieved [before them]. May Allah destroy them; how are they deluded?
وَقَالَتِ الْيَهُودُ عُزَيْرٌ ابْنُ اللَّهِ وَقَالَتِ النَّصَارَى الْمَسِيحُ ابْنُ اللَّهِ ۖ ذَٰلِكَ قَوْلُهُم بِأَفْوَاهِهِمْ ۖ يُضَاهِئُونَ قَوْلَ الَّذِينَ كَفَرُوا مِن قَبْلُ ۚ قَاتَلَهُمُ اللَّهُ ۚ أَنَّىٰ يُؤْفَكُونَ