Verses from the Book of Allah on Depriving the people of their due Arranged in the order of the descent of the fence and accompanied by a simple interpretation, as well as with the possibility of listening to it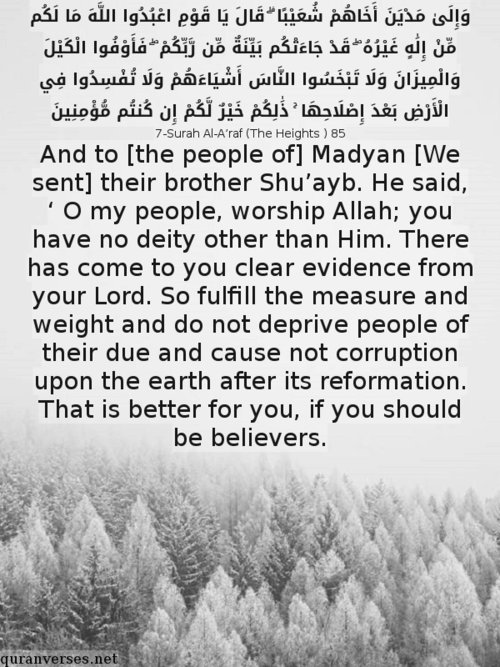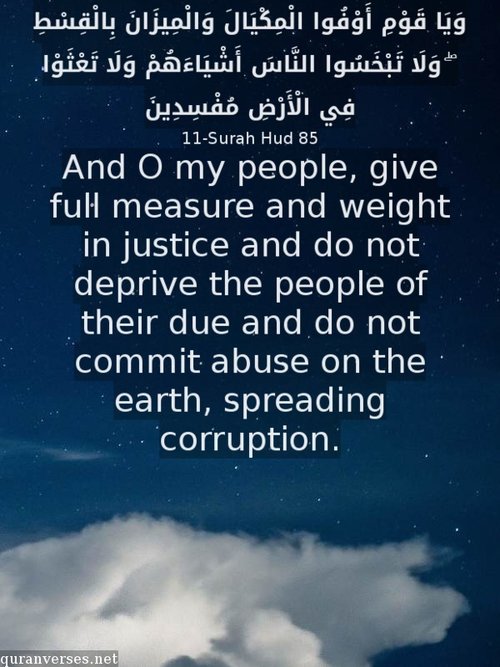 7-Surah Al-A'raf (The Heights ) 85
And to [the people of] Madyan [We sent] their brother Shu'ayb. He said, ' O my people, worship Allah; you have no deity other than Him. There has come to you clear evidence from your Lord. So fulfill the measure and weight and do not deprive people of their due and cause not corruption upon the earth after its reformation. That is better for you, if you should be believers.
وَإِلَىٰ مَدْيَنَ أَخَاهُمْ شُعَيْبًا ۗ قَالَ يَا قَوْمِ اعْبُدُوا اللَّهَ مَا لَكُم مِّنْ إِلَٰهٍ غَيْرُهُ ۖ قَدْ جَاءَتْكُم بَيِّنَةٌ مِّن رَّبِّكُمْ ۖ فَأَوْفُوا الْكَيْلَ وَالْمِيزَانَ وَلَا تَبْخَسُوا النَّاسَ أَشْيَاءَهُمْ وَلَا تُفْسِدُوا فِي الْأَرْضِ بَعْدَ إِصْلَاحِهَا ۚ ذَٰلِكُمْ خَيْرٌ لَّكُمْ إِن كُنتُم مُّؤْمِنِينَ
11-Surah Hud 26
That you not worship except Allah. Indeed, I fear for you the punishment of a painful day.'
أَن لَّا تَعْبُدُوا إِلَّا اللَّهَ ۖ إِنِّي أَخَافُ عَلَيْكُمْ عَذَابَ يَوْمٍ أَلِيمٍ
11-Surah Hud 85
And O my people, give full measure and weight in justice and do not deprive the people of their due and do not commit abuse on the earth, spreading corruption.
وَيَا قَوْمِ أَوْفُوا الْمِكْيَالَ وَالْمِيزَانَ بِالْقِسْطِ ۖ وَلَا تَبْخَسُوا النَّاسَ أَشْيَاءَهُمْ وَلَا تَعْثَوْا فِي الْأَرْضِ مُفْسِدِينَ
2-Surah Al-Baqarah ( The Cow ) 282
O you who have believed, when you contract a debt for a specified term, write it down. And let a scribe write [it] between you in justice. Let no scribe refuse to write as Allah has taught him. So let him write and let the one who has the obligation dictate. And let him fear Allah, his Lord, and not leave anything out of it. But if the one who has the obligation is of limited understanding or weak or unable to dictate himself, then let his guardian dictate in justice. And bring to witness two witnesses from among your men. And if there are not two men [available], then a man and two women from those whom you accept as witnesses – so that if one of the women errs, then the other can remind her. And let not the witnesses refuse when they are called upon. And do not be [too] weary to write it, whether it is small or large, for its [specified] term. That is more just in the sight of Allah and stronger as evidence and more likely to prevent doubt between you, except when it is an immediate transaction which you conduct among yourselves. For [then] there is no blame upon you if you do not write it. And take witnesses when you conclude a contract. Let no scribe be harmed or any witness. For if you do so, indeed, it is [grave] disobedience in you. And fear Allah. And Allah teaches you. And Allah is Knowing of all things.
يَا أَيُّهَا الَّذِينَ آمَنُوا إِذَا تَدَايَنتُم بِدَيْنٍ إِلَىٰ أَجَلٍ مُّسَمًّى فَاكْتُبُوهُ ۚ وَلْيَكْتُب بَّيْنَكُمْ كَاتِبٌ بِالْعَدْلِ ۚ وَلَا يَأْبَ كَاتِبٌ أَن يَكْتُبَ كَمَا عَلَّمَهُ اللَّهُ ۚ فَلْيَكْتُبْ وَلْيُمْلِلِ الَّذِي عَلَيْهِ الْحَقُّ وَلْيَتَّقِ اللَّهَ رَبَّهُ وَلَا يَبْخَسْ مِنْهُ شَيْئًا ۚ فَإِن كَانَ الَّذِي عَلَيْهِ الْحَقُّ سَفِيهًا أَوْ ضَعِيفًا أَوْ لَا يَسْتَطِيعُ أَن يُمِلَّ هُوَ فَلْيُمْلِلْ وَلِيُّهُ بِالْعَدْلِ ۚ وَاسْتَشْهِدُوا شَهِيدَيْنِ مِن رِّجَالِكُمْ ۖ فَإِن لَّمْ يَكُونَا رَجُلَيْنِ فَرَجُلٌ وَامْرَأَتَانِ مِمَّن تَرْضَوْنَ مِنَ الشُّهَدَاءِ أَن تَضِلَّ إِحْدَاهُمَا فَتُذَكِّرَ إِحْدَاهُمَا الْأُخْرَىٰ ۚ وَلَا يَأْبَ الشُّهَدَاءُ إِذَا مَا دُعُوا ۚ وَلَا تَسْأَمُوا أَن تَكْتُبُوهُ صَغِيرًا أَوْ كَبِيرًا إِلَىٰ أَجَلِهِ ۚ ذَٰلِكُمْ أَقْسَطُ عِندَ اللَّهِ وَأَقْوَمُ لِلشَّهَادَةِ وَأَدْنَىٰ أَلَّا تَرْتَابُوا ۖ إِلَّا أَن تَكُونَ تِجَارَةً حَاضِرَةً تُدِيرُونَهَا بَيْنَكُمْ فَلَيْسَ عَلَيْكُمْ جُنَاحٌ أَلَّا تَكْتُبُوهَا ۗ وَأَشْهِدُوا إِذَا تَبَايَعْتُمْ ۚ وَلَا يُضَارَّ كَاتِبٌ وَلَا شَهِيدٌ ۚ وَإِن تَفْعَلُوا فَإِنَّهُ فُسُوقٌ بِكُمْ ۗ وَاتَّقُوا اللَّهَ ۖ وَيُعَلِّمُكُمُ اللَّهُ ۗ وَاللَّهُ بِكُلِّ شَيْءٍ عَلِيمٌ