Verses from the Book of Allah on Doing good deeds Arranged in the order of the descent of the fence and accompanied by a simple interpretation, as well as with the possibility of listening to it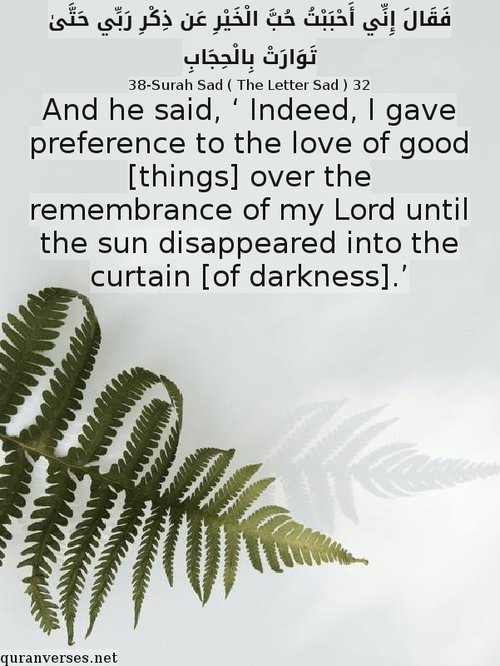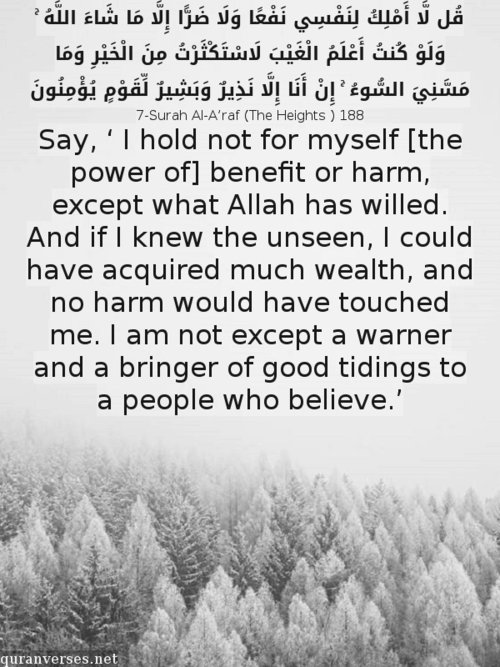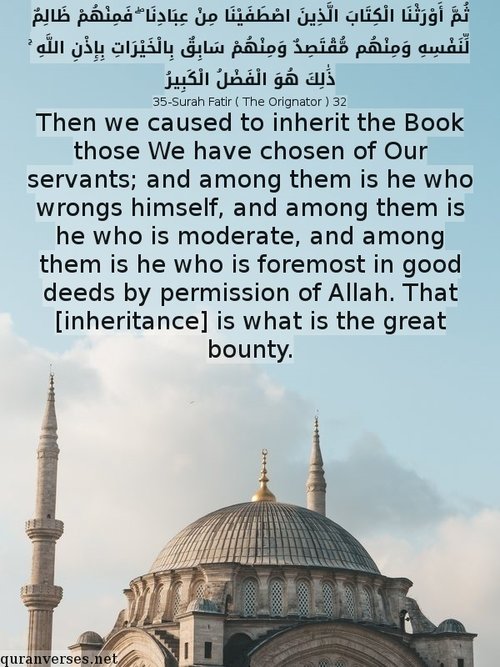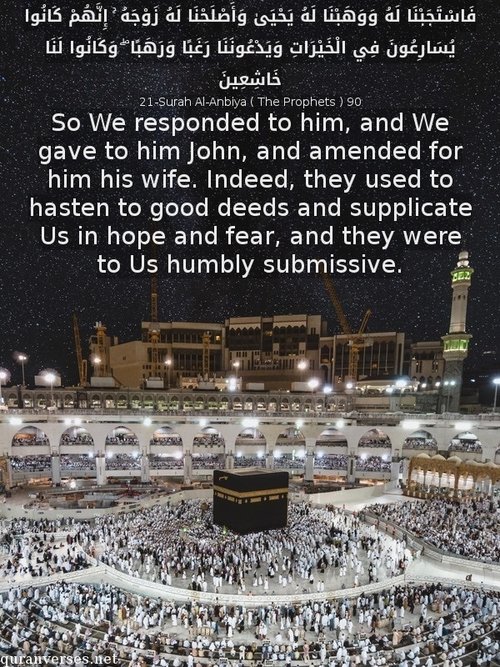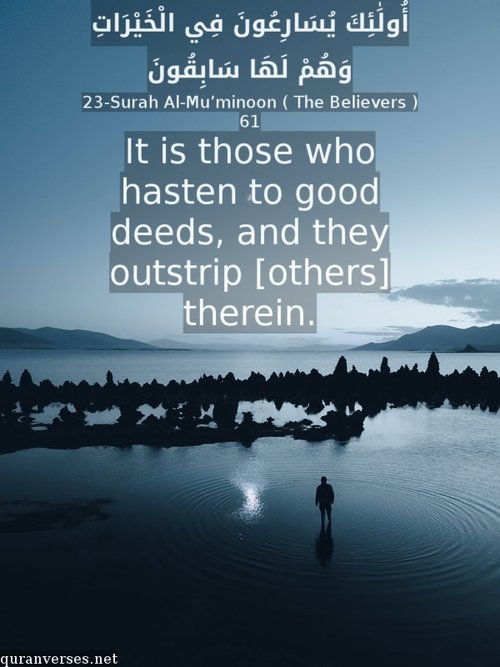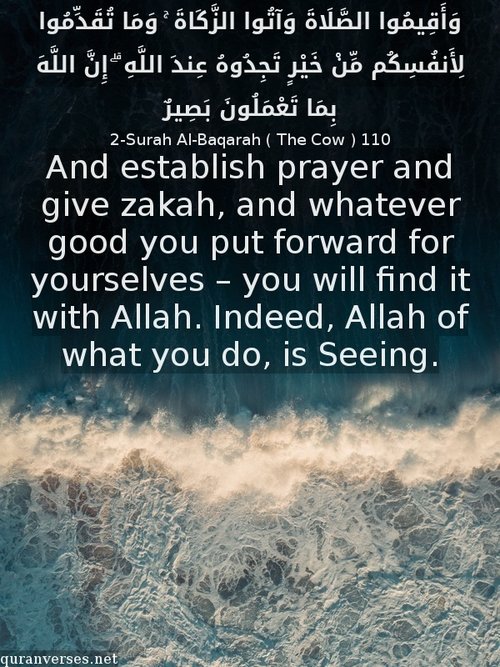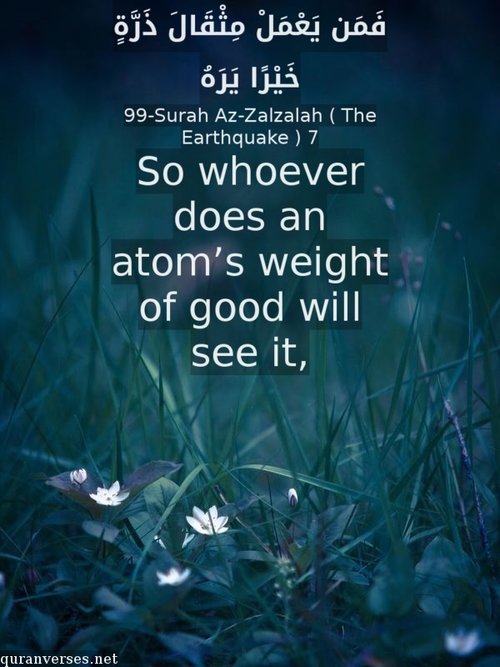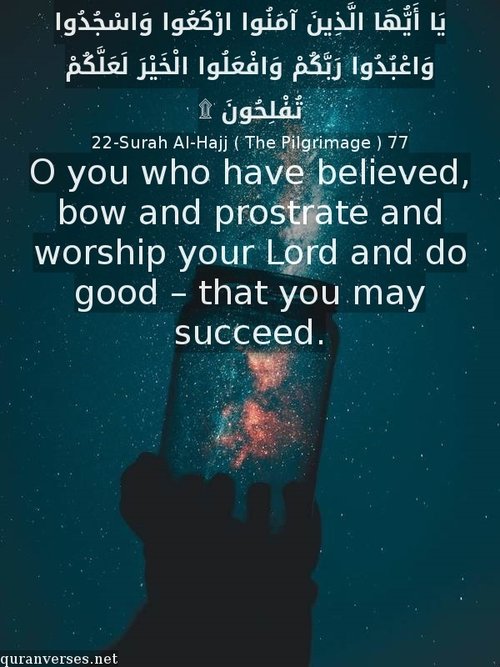 38-Surah Sad ( The Letter Sad ) 32
And he said, ' Indeed, I gave preference to the love of good [things] over the remembrance of my Lord until the sun disappeared into the curtain [of darkness].'
فَقَالَ إِنِّي أَحْبَبْتُ حُبَّ الْخَيْرِ عَن ذِكْرِ رَبِّي حَتَّىٰ تَوَارَتْ بِالْحِجَابِ
7-Surah Al-A'raf (The Heights ) 188
Say, ' I hold not for myself [the power of] benefit or harm, except what Allah has willed. And if I knew the unseen, I could have acquired much wealth, and no harm would have touched me. I am not except a warner and a bringer of good tidings to a people who believe.'
قُل لَّا أَمْلِكُ لِنَفْسِي نَفْعًا وَلَا ضَرًّا إِلَّا مَا شَاءَ اللَّهُ ۚ وَلَوْ كُنتُ أَعْلَمُ الْغَيْبَ لَاسْتَكْثَرْتُ مِنَ الْخَيْرِ وَمَا مَسَّنِيَ السُّوءُ ۚ إِنْ أَنَا إِلَّا نَذِيرٌ وَبَشِيرٌ لِّقَوْمٍ يُؤْمِنُونَ
35-Surah Fatir ( The Orignator ) 32
Then we caused to inherit the Book those We have chosen of Our servants; and among them is he who wrongs himself, and among them is he who is moderate, and among them is he who is foremost in good deeds by permission of Allah. That [inheritance] is what is the great bounty.
ثُمَّ أَوْرَثْنَا الْكِتَابَ الَّذِينَ اصْطَفَيْنَا مِنْ عِبَادِنَا ۖ فَمِنْهُمْ ظَالِمٌ لِّنَفْسِهِ وَمِنْهُم مُّقْتَصِدٌ وَمِنْهُمْ سَابِقٌ بِالْخَيْرَاتِ بِإِذْنِ اللَّهِ ۚ ذَٰلِكَ هُوَ الْفَضْلُ الْكَبِيرُ
21-Surah Al-Anbiya ( The Prophets ) 90
So We responded to him, and We gave to him John, and amended for him his wife. Indeed, they used to hasten to good deeds and supplicate Us in hope and fear, and they were to Us humbly submissive.
فَاسْتَجَبْنَا لَهُ وَوَهَبْنَا لَهُ يَحْيَىٰ وَأَصْلَحْنَا لَهُ زَوْجَهُ ۚ إِنَّهُمْ كَانُوا يُسَارِعُونَ فِي الْخَيْرَاتِ وَيَدْعُونَنَا رَغَبًا وَرَهَبًا ۖ وَكَانُوا لَنَا خَاشِعِينَ
23-Surah Al-Mu'minoon ( The Believers ) 61
It is those who hasten to good deeds, and they outstrip [others] therein.
أُولَٰئِكَ يُسَارِعُونَ فِي الْخَيْرَاتِ وَهُمْ لَهَا سَابِقُونَ
2-Surah Al-Baqarah ( The Cow ) 110
And establish prayer and give zakah, and whatever good you put forward for yourselves – you will find it with Allah. Indeed, Allah of what you do, is Seeing.
وَأَقِيمُوا الصَّلَاةَ وَآتُوا الزَّكَاةَ ۚ وَمَا تُقَدِّمُوا لِأَنفُسِكُم مِّنْ خَيْرٍ تَجِدُوهُ عِندَ اللَّهِ ۗ إِنَّ اللَّهَ بِمَا تَعْمَلُونَ بَصِيرٌ
3-Surah Al-Imran ( The Family of Imran ) 114-115
They believe in Allah and the Last Day, and they enjoin what is right and forbid what is wrong and hasten to good deeds. And those are among the righteous.
يُؤْمِنُونَ بِاللَّهِ وَالْيَوْمِ الْآخِرِ وَيَأْمُرُونَ بِالْمَعْرُوفِ وَيَنْهَوْنَ عَنِ الْمُنكَرِ وَيُسَارِعُونَ فِي الْخَيْرَاتِ وَأُولَٰئِكَ مِنَ الصَّالِحِينَ
And whatever good they do – never will it be removed from them. And Allah is Knowing of the righteous.
وَمَا يَفْعَلُوا مِنْ خَيْرٍ فَلَن يُكْفَرُوهُ ۗ وَاللَّهُ عَلِيمٌ بِالْمُتَّقِينَ
99-Surah Az-Zalzalah ( The Earthquake ) 7
So whoever does an atom's weight of good will see it,
فَمَن يَعْمَلْ مِثْقَالَ ذَرَّةٍ خَيْرًا يَرَهُ
22-Surah Al-Hajj ( The Pilgrimage ) 77
O you who have believed, bow and prostrate and worship your Lord and do good – that you may succeed.
يَا أَيُّهَا الَّذِينَ آمَنُوا ارْكَعُوا وَاسْجُدُوا وَاعْبُدُوا رَبَّكُمْ وَافْعَلُوا الْخَيْرَ لَعَلَّكُمْ تُفْلِحُونَ ۩
5-Surah Al-Maidah ( The Table spread with Food ) 48
And We have revealed to you, [O Muhammad], the Book in truth, confirming that which preceded it of the Scripture and as a criterion over it. So judge between them by what Allah has revealed and do not follow their inclinations away from what has come to you of the truth. To each of you We prescribed a law and a method. Had Allah willed, He would have made you one nation [united in religion], but [He intended] to test you in what He has given you; so race to [all that is] good. To Allah is your return all together, and He will [then] inform you concerning that over which you used to differ.
وَأَنزَلْنَا إِلَيْكَ الْكِتَابَ بِالْحَقِّ مُصَدِّقًا لِّمَا بَيْنَ يَدَيْهِ مِنَ الْكِتَابِ وَمُهَيْمِنًا عَلَيْهِ ۖ فَاحْكُم بَيْنَهُم بِمَا أَنزَلَ اللَّهُ ۖ وَلَا تَتَّبِعْ أَهْوَاءَهُمْ عَمَّا جَاءَكَ مِنَ الْحَقِّ ۚ لِكُلٍّ جَعَلْنَا مِنكُمْ شِرْعَةً وَمِنْهَاجًا ۚ وَلَوْ شَاءَ اللَّهُ لَجَعَلَكُمْ أُمَّةً وَاحِدَةً وَلَٰكِن لِّيَبْلُوَكُمْ فِي مَا آتَاكُمْ ۖ فَاسْتَبِقُوا الْخَيْرَاتِ ۚ إِلَى اللَّهِ مَرْجِعُكُمْ جَمِيعًا فَيُنَبِّئُكُم بِمَا كُنتُمْ فِيهِ تَخْتَلِفُونَ