Verses from the Book of Allah on Listening to the Quran Arranged in the order of the descent of the fence and accompanied by a simple interpretation, as well as with the possibility of listening to it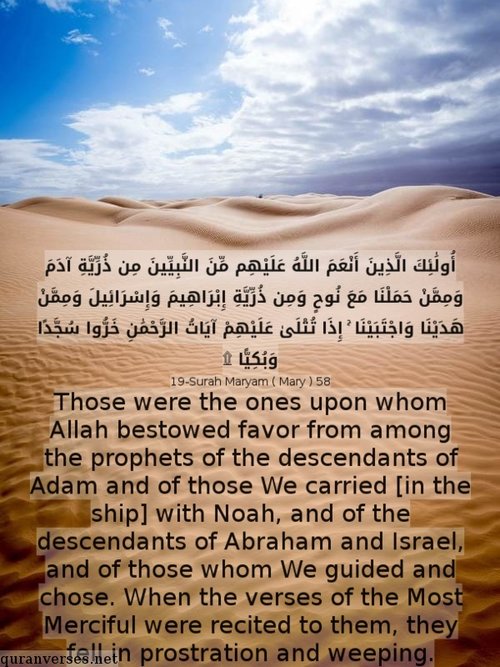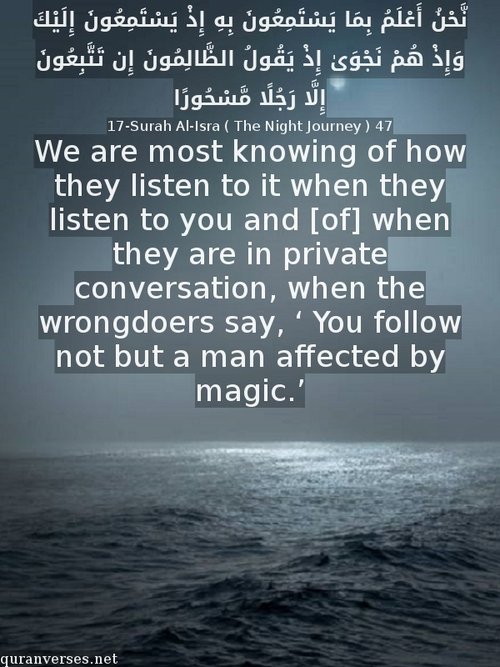 75-Surah Al-Qiyamah ( The Resurrection ) 18
So when We have recited it [through Gabriel], then follow its recitation.
فَإِذَا قَرَأْنَاهُ فَاتَّبِعْ قُرْآنَهُ
7-Surah Al-A'raf (The Heights ) 204
So when the Qur'an is recited, then listen to it and pay attention that you may receive mercy.
وَإِذَا قُرِئَ الْقُرْآنُ فَاسْتَمِعُوا لَهُ وَأَنصِتُوا لَعَلَّكُمْ تُرْحَمُونَ
19-Surah Maryam ( Mary ) 58
Those were the ones upon whom Allah bestowed favor from among the prophets of the descendants of Adam and of those We carried [in the ship] with Noah, and of the descendants of Abraham and Israel, and of those whom We guided and chose. When the verses of the Most Merciful were recited to them, they fell in prostration and weeping.
أُولَٰئِكَ الَّذِينَ أَنْعَمَ اللَّهُ عَلَيْهِم مِّنَ النَّبِيِّينَ مِن ذُرِّيَّةِ آدَمَ وَمِمَّنْ حَمَلْنَا مَعَ نُوحٍ وَمِن ذُرِّيَّةِ إِبْرَاهِيمَ وَإِسْرَائِيلَ وَمِمَّنْ هَدَيْنَا وَاجْتَبَيْنَا ۚ إِذَا تُتْلَىٰ عَلَيْهِمْ آيَاتُ الرَّحْمَٰنِ خَرُّوا سُجَّدًا وَبُكِيًّا ۩
28-Surah Al-Qasas ( The Stories ) 52-54
Those to whom We gave the Scripture before it – they are believers in it.
الَّذِينَ آتَيْنَاهُمُ الْكِتَابَ مِن قَبْلِهِ هُم بِهِ يُؤْمِنُونَ
And when it is recited to them, they say, ' We have believed in it; indeed, it is the truth from our Lord. Indeed we were, [even] before it, Muslims [submitting to Allah].'
وَإِذَا يُتْلَىٰ عَلَيْهِمْ قَالُوا آمَنَّا بِهِ إِنَّهُ الْحَقُّ مِن رَّبِّنَا إِنَّا كُنَّا مِن قَبْلِهِ مُسْلِمِينَ
Those will be given their reward twice for what they patiently endured and [because] they avert evil through good, and from what We have provided them they spend.
أُولَٰئِكَ يُؤْتَوْنَ أَجْرَهُم مَّرَّتَيْنِ بِمَا صَبَرُوا وَيَدْرَءُونَ بِالْحَسَنَةِ السَّيِّئَةَ وَمِمَّا رَزَقْنَاهُمْ يُنفِقُونَ
17-Surah Al-Isra ( The Night Journey ) 47
We are most knowing of how they listen to it when they listen to you and [of] when they are in private conversation, when the wrongdoers say, ' You follow not but a man affected by magic.'
نَّحْنُ أَعْلَمُ بِمَا يَسْتَمِعُونَ بِهِ إِذْ يَسْتَمِعُونَ إِلَيْكَ وَإِذْ هُمْ نَجْوَىٰ إِذْ يَقُولُ الظَّالِمُونَ إِن تَتَّبِعُونَ إِلَّا رَجُلًا مَّسْحُورًا
17-Surah Al-Isra ( The Night Journey ) 106-108
And [it is] a Qur'an which We have separated [by intervals] that you might recite it to the people over a prolonged period. And We have sent it down progressively.
وَقُرْآنًا فَرَقْنَاهُ لِتَقْرَأَهُ عَلَى النَّاسِ عَلَىٰ مُكْثٍ وَنَزَّلْنَاهُ تَنزِيلًا
Say, ' Believe in it or do not believe. Indeed, those who were given knowledge before it – when it is recited to them, they fall upon their faces in prostration,
قُلْ آمِنُوا بِهِ أَوْ لَا تُؤْمِنُوا ۚ إِنَّ الَّذِينَ أُوتُوا الْعِلْمَ مِن قَبْلِهِ إِذَا يُتْلَىٰ عَلَيْهِمْ يَخِرُّونَ لِلْأَذْقَانِ سُجَّدًا
And they say, ' Exalted is our Lord! Indeed, the promise of our Lord has been fulfilled.'
وَيَقُولُونَ سُبْحَانَ رَبِّنَا إِن كَانَ وَعْدُ رَبِّنَا لَمَفْعُولًا
8-Surah Al-Anfal ( The Spoils of War ) 2
The believers are only those who, when Allah is mentioned, their hearts become fearful, and when His verses are recited to them, it increases them in faith; and upon their Lord they rely –
إِنَّمَا الْمُؤْمِنُونَ الَّذِينَ إِذَا ذُكِرَ اللَّهُ وَجِلَتْ قُلُوبُهُمْ وَإِذَا تُلِيَتْ عَلَيْهِمْ آيَاتُهُ زَادَتْهُمْ إِيمَانًا وَعَلَىٰ رَبِّهِمْ يَتَوَكَّلُونَ
59-Surah Al-Hashr ( The Gathering ) 21
If We had sent down this Qur'an upon a mountain, you would have seen it humbled and coming apart from fear of Allah. And these examples We present to the people that perhaps they will give thought.
لَوْ أَنزَلْنَا هَٰذَا الْقُرْآنَ عَلَىٰ جَبَلٍ لَّرَأَيْتَهُ خَاشِعًا مُّتَصَدِّعًا مِّنْ خَشْيَةِ اللَّهِ ۚ وَتِلْكَ الْأَمْثَالُ نَضْرِبُهَا لِلنَّاسِ لَعَلَّهُمْ يَتَفَكَّرُونَ