Verses from the Book of Allah on Perjury and false testimony Arranged in the order of the descent of the fence and accompanied by a simple interpretation, as well as with the possibility of listening to it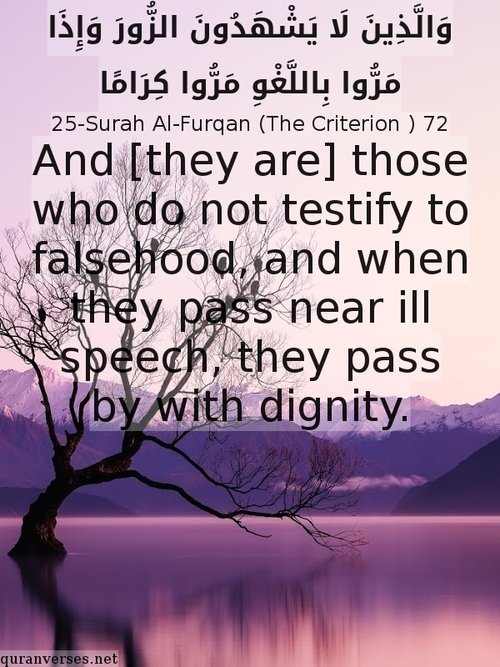 25-Surah Al-Furqan (The Criterion ) 72
And [they are] those who do not testify to falsehood, and when they pass near ill speech, they pass by with dignity.
وَالَّذِينَ لَا يَشْهَدُونَ الزُّورَ وَإِذَا مَرُّوا بِاللَّغْوِ مَرُّوا كِرَامًا
22-Surah Al-Hajj ( The Pilgrimage ) 30
That [has been commanded], and whoever honors the sacred ordinances of Allah – it is best for him in the sight of his Lord. And permitted to you are the grazing livestock, except what is recited to you. So avoid the uncleanliness of idols and avoid false statement,
ذَٰلِكَ وَمَن يُعَظِّمْ حُرُمَاتِ اللَّهِ فَهُوَ خَيْرٌ لَّهُ عِندَ رَبِّهِ ۗ وَأُحِلَّتْ لَكُمُ الْأَنْعَامُ إِلَّا مَا يُتْلَىٰ عَلَيْكُمْ ۖ فَاجْتَنِبُوا الرِّجْسَ مِنَ الْأَوْثَانِ وَاجْتَنِبُوا قَوْلَ الزُّورِ
58-Surah Al-Mujadilah ( She That Disputeth ) 2
Those who pronounce thihar among you [to separate] from their wives – they are not [consequently] their mothers. Their mothers are none but those who gave birth to them. And indeed, they are saying an objectionable statement and a falsehood. But indeed, Allah is Pardoning and Forgiving.
الَّذِينَ يُظَاهِرُونَ مِنكُم مِّن نِّسَائِهِم مَّا هُنَّ أُمَّهَاتِهِمْ ۖ إِنْ أُمَّهَاتُهُمْ إِلَّا اللَّائِي وَلَدْنَهُمْ ۚ وَإِنَّهُمْ لَيَقُولُونَ مُنكَرًا مِّنَ الْقَوْلِ وَزُورًا ۚ وَإِنَّ اللَّهَ لَعَفُوٌّ غَفُورٌ