Verses from the Book of Allah on Prophet Dhul Kifl Arranged in the order of the descent of the fence and accompanied by a simple interpretation, as well as with the possibility of listening to it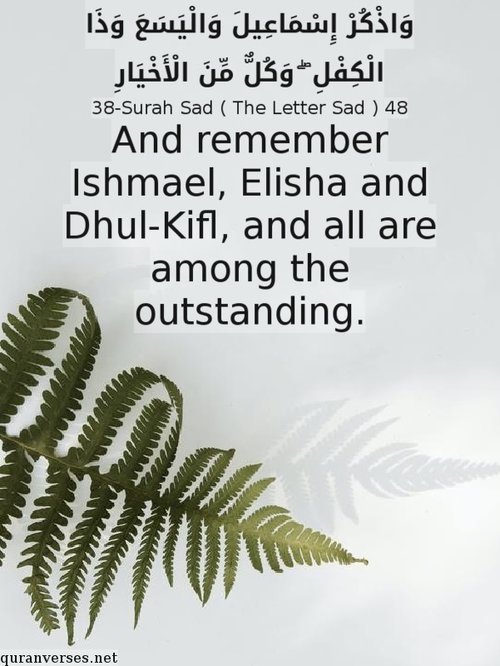 38-Surah Sad ( The Letter Sad ) 48
And remember Ishmael, Elisha and Dhul-Kifl, and all are among the outstanding.
وَاذْكُرْ إِسْمَاعِيلَ وَالْيَسَعَ وَذَا الْكِفْلِ ۖ وَكُلٌّ مِّنَ الْأَخْيَارِ
21-Surah Al-Anbiya ( The Prophets ) 85-86
And [mention] Ishmael and Idrees and Dhul-Kifl; all were of the patient.
وَإِسْمَاعِيلَ وَإِدْرِيسَ وَذَا الْكِفْلِ ۖ كُلٌّ مِّنَ الصَّابِرِينَ
And We admitted them into Our mercy. Indeed, they were of the righteous.
وَأَدْخَلْنَاهُمْ فِي رَحْمَتِنَا ۖ إِنَّهُم مِّنَ الصَّالِحِينَ