Verses from the Book of Allah on Etiquette of drinking Arranged in the order of the descent of the fence and accompanied by a simple interpretation, as well as with the possibility of listening to it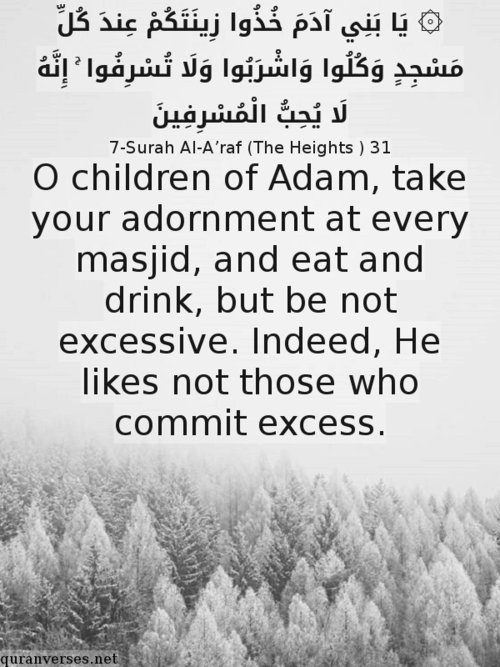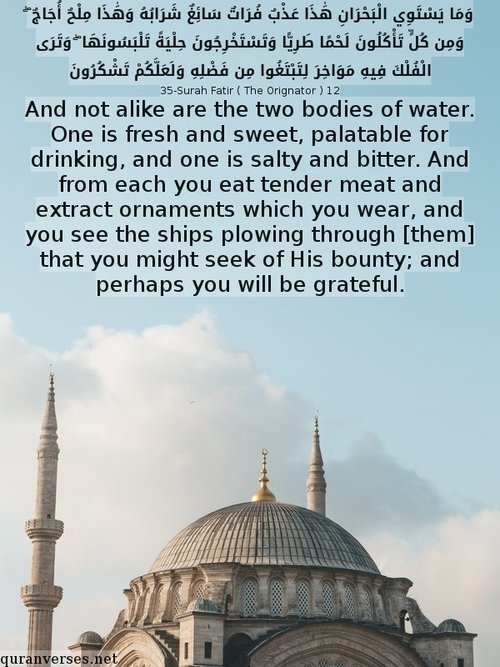 7-Surah Al-A'raf (The Heights ) 31
O children of Adam, take your adornment at every masjid, and eat and drink, but be not excessive. Indeed, He likes not those who commit excess.
۞ يَا بَنِي آدَمَ خُذُوا زِينَتَكُمْ عِندَ كُلِّ مَسْجِدٍ وَكُلُوا وَاشْرَبُوا وَلَا تُسْرِفُوا ۚ إِنَّهُ لَا يُحِبُّ الْمُسْرِفِينَ
36-Surah Ya-seen 71-73
Do they not see that We have created for them from what Our hands have made, grazing livestock, and [then] they are their owners?
أَوَلَمْ يَرَوْا أَنَّا خَلَقْنَا لَهُم مِّمَّا عَمِلَتْ أَيْدِينَا أَنْعَامًا فَهُمْ لَهَا مَالِكُونَ
And We have tamed them for them, so some of them they ride, and some of them they eat.
وَذَلَّلْنَاهَا لَهُمْ فَمِنْهَا رَكُوبُهُمْ وَمِنْهَا يَأْكُلُونَ
And for them therein are [other] benefits and drinks, so will they not be grateful?
وَلَهُمْ فِيهَا مَنَافِعُ وَمَشَارِبُ ۖ أَفَلَا يَشْكُرُونَ
35-Surah Fatir ( The Orignator ) 12
And not alike are the two bodies of water. One is fresh and sweet, palatable for drinking, and one is salty and bitter. And from each you eat tender meat and extract ornaments which you wear, and you see the ships plowing through [them] that you might seek of His bounty; and perhaps you will be grateful.
وَمَا يَسْتَوِي الْبَحْرَانِ هَٰذَا عَذْبٌ فُرَاتٌ سَائِغٌ شَرَابُهُ وَهَٰذَا مِلْحٌ أُجَاجٌ ۖ وَمِن كُلٍّ تَأْكُلُونَ لَحْمًا طَرِيًّا وَتَسْتَخْرِجُونَ حِلْيَةً تَلْبَسُونَهَا ۖ وَتَرَى الْفُلْكَ فِيهِ مَوَاخِرَ لِتَبْتَغُوا مِن فَضْلِهِ وَلَعَلَّكُمْ تَشْكُرُونَ
16-Surah An-Nahl ( The Bees ) 66
And indeed, for you in grazing livestock is a lesson. We give you drink from what is in their bellies – between excretion and blood – pure milk, palatable to drinkers.
وَإِنَّ لَكُمْ فِي الْأَنْعَامِ لَعِبْرَةً ۖ نُّسْقِيكُم مِّمَّا فِي بُطُونِهِ مِن بَيْنِ فَرْثٍ وَدَمٍ لَّبَنًا خَالِصًا سَائِغًا لِّلشَّارِبِينَ
16-Surah An-Nahl ( The Bees ) 69
Then eat from all the fruits and follow the ways of your Lord laid down [for you].' There emerges from their bellies a drink, varying in colors, in which there is healing for people. Indeed in that is a sign for a people who give thought.
ثُمَّ كُلِي مِن كُلِّ الثَّمَرَاتِ فَاسْلُكِي سُبُلَ رَبِّكِ ذُلُلًا ۚ يَخْرُجُ مِن بُطُونِهَا شَرَابٌ مُّخْتَلِفٌ أَلْوَانُهُ فِيهِ شِفَاءٌ لِّلنَّاسِ ۗ إِنَّ فِي ذَٰلِكَ لَآيَةً لِّقَوْمٍ يَتَفَكَّرُونَ
2-Surah Al-Baqarah ( The Cow ) 60
And [recall] when Moses prayed for water for his people, so We said, ' Strike with your staff the stone.' And there gushed forth from it twelve springs, and every people knew its watering place. ' Eat and drink from the provision of Allah, and do not commit abuse on the earth, spreading corruption.'
۞ وَإِذِ اسْتَسْقَىٰ مُوسَىٰ لِقَوْمِهِ فَقُلْنَا اضْرِب بِّعَصَاكَ الْحَجَرَ ۖ فَانفَجَرَتْ مِنْهُ اثْنَتَا عَشْرَةَ عَيْنًا ۖ قَدْ عَلِمَ كُلُّ أُنَاسٍ مَّشْرَبَهُمْ ۖ كُلُوا وَاشْرَبُوا مِن رِّزْقِ اللَّهِ وَلَا تَعْثَوْا فِي الْأَرْضِ مُفْسِدِينَ