Verses from the Book of Allah on etiquette when sitting together Arranged in the order of the descent of the fence and accompanied by a simple interpretation, as well as with the possibility of listening to it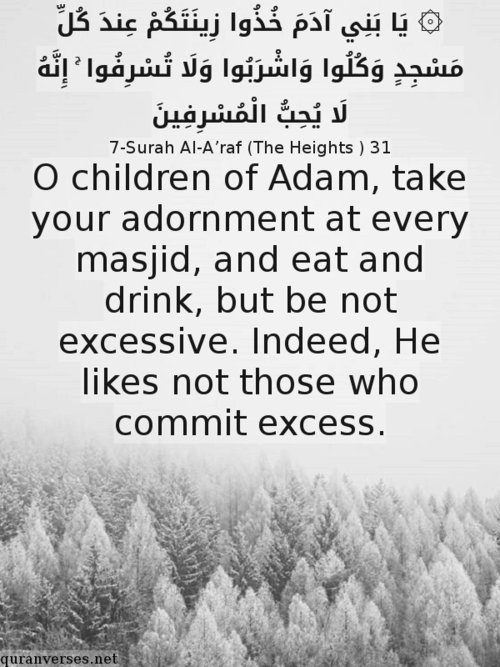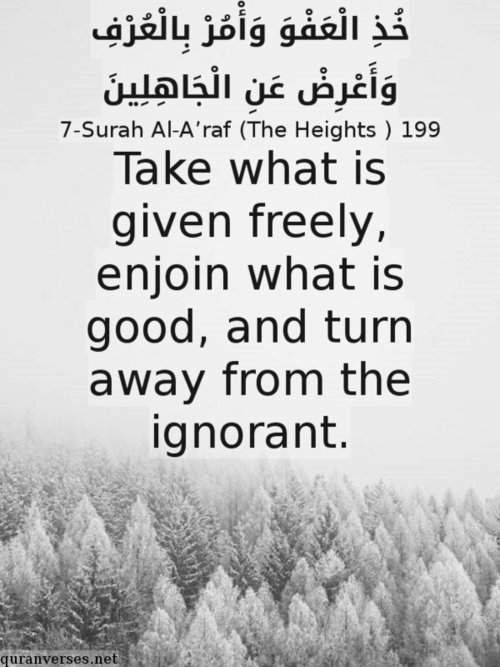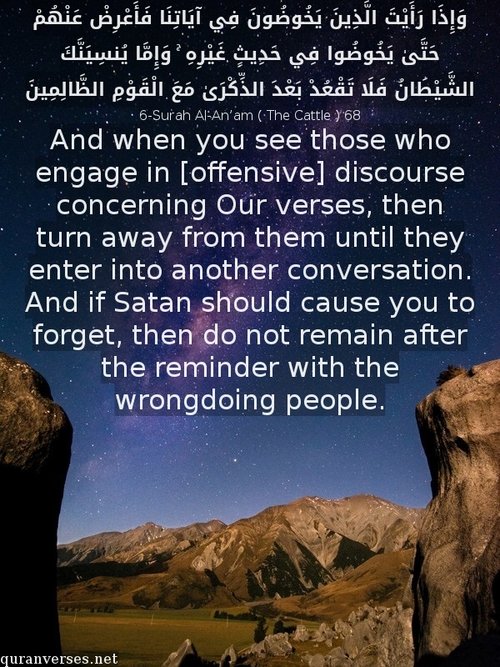 7-Surah Al-A'raf (The Heights ) 31
O children of Adam, take your adornment at every masjid, and eat and drink, but be not excessive. Indeed, He likes not those who commit excess.
۞ يَا بَنِي آدَمَ خُذُوا زِينَتَكُمْ عِندَ كُلِّ مَسْجِدٍ وَكُلُوا وَاشْرَبُوا وَلَا تُسْرِفُوا ۚ إِنَّهُ لَا يُحِبُّ الْمُسْرِفِينَ
7-Surah Al-A'raf (The Heights ) 199
Take what is given freely, enjoin what is good, and turn away from the ignorant.
خُذِ الْعَفْوَ وَأْمُرْ بِالْعُرْفِ وَأَعْرِضْ عَنِ الْجَاهِلِينَ
6-Surah Al-An'am ( The Cattle ) 52
And do not send away those who call upon their Lord morning and afternoon, seeking His countenance. Not upon you is anything of their account and not upon them is anything of your account. So were you to send them away, you would [then] be of the wrongdoers.
وَلَا تَطْرُدِ الَّذِينَ يَدْعُونَ رَبَّهُم بِالْغَدَاةِ وَالْعَشِيِّ يُرِيدُونَ وَجْهَهُ ۖ مَا عَلَيْكَ مِنْ حِسَابِهِم مِّن شَيْءٍ وَمَا مِنْ حِسَابِكَ عَلَيْهِم مِّن شَيْءٍ فَتَطْرُدَهُمْ فَتَكُونَ مِنَ الظَّالِمِينَ
6-Surah Al-An'am ( The Cattle ) 68
And when you see those who engage in [offensive] discourse concerning Our verses, then turn away from them until they enter into another conversation. And if Satan should cause you to forget, then do not remain after the reminder with the wrongdoing people.
وَإِذَا رَأَيْتَ الَّذِينَ يَخُوضُونَ فِي آيَاتِنَا فَأَعْرِضْ عَنْهُمْ حَتَّىٰ يَخُوضُوا فِي حَدِيثٍ غَيْرِهِ ۚ وَإِمَّا يُنسِيَنَّكَ الشَّيْطَانُ فَلَا تَقْعُدْ بَعْدَ الذِّكْرَىٰ مَعَ الْقَوْمِ الظَّالِمِينَ
58-Surah Al-Mujadilah ( She That Disputeth ) 11
O you who have believed, when you are told, ' Space yourselves' in assemblies, then make space; Allah will make space for you. And when you are told, ' Arise,' then arise; Allah will raise those who have believed among you and those who were given knowledge, by degrees. And Allah is Acquainted with what you do.
يَا أَيُّهَا الَّذِينَ آمَنُوا إِذَا قِيلَ لَكُمْ تَفَسَّحُوا فِي الْمَجَالِسِ فَافْسَحُوا يَفْسَحِ اللَّهُ لَكُمْ ۖ وَإِذَا قِيلَ انشُزُوا فَانشُزُوا يَرْفَعِ اللَّهُ الَّذِينَ آمَنُوا مِنكُمْ وَالَّذِينَ أُوتُوا الْعِلْمَ دَرَجَاتٍ ۚ وَاللَّهُ بِمَا تَعْمَلُونَ خَبِيرٌ