Verses from the Book of Allah on Humiliation Arranged in the order of the descent of the fence and accompanied by a simple interpretation, as well as with the possibility of listening to it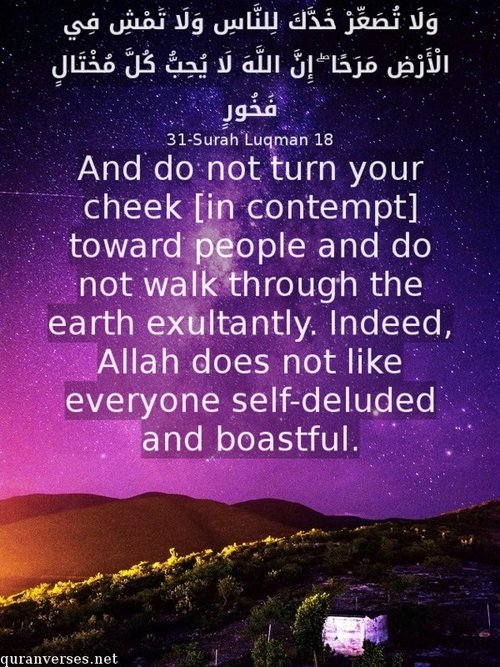 31-Surah Luqman 18
And do not turn your cheek [in contempt] toward people and do not walk through the earth exultantly. Indeed, Allah does not like everyone self-deluded and boastful.
وَلَا تُصَعِّرْ خَدَّكَ لِلنَّاسِ وَلَا تَمْشِ فِي الْأَرْضِ مَرَحًا ۖ إِنَّ اللَّهَ لَا يُحِبُّ كُلَّ مُخْتَالٍ فَخُورٍ
47-Surah Muhammad 35
So do not weaken and call for peace while you are superior; and Allah is with you and will never deprive you of [the reward of] your deeds.
فَلَا تَهِنُوا وَتَدْعُوا إِلَى السَّلْمِ وَأَنتُمُ الْأَعْلَوْنَ وَاللَّهُ مَعَكُمْ وَلَن يَتِرَكُمْ أَعْمَالَكُمْ