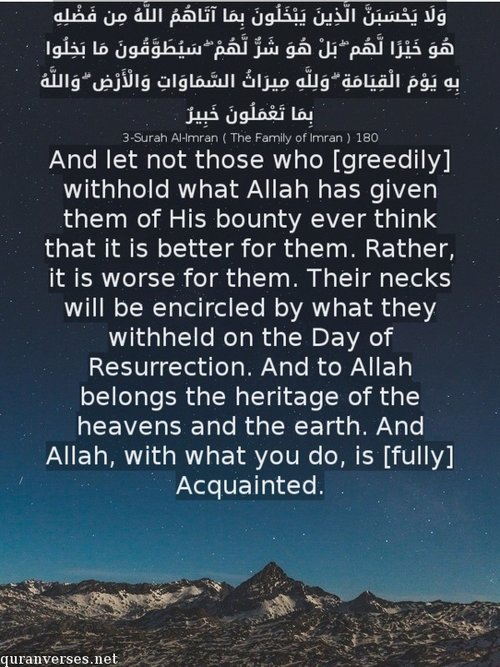 3-Surah Al-Imran ( The Family of Imran ) 180
And let not those who [greedily] withhold what Allah has given them of His bounty ever think that it is better for them. Rather, it is worse for them. Their necks will be encircled by what they withheld on the Day of Resurrection. And to Allah belongs the heritage of the heavens and the earth. And Allah, with what you do, is [fully] Acquainted.
وَلَا يَحْسَبَنَّ الَّذِينَ يَبْخَلُونَ بِمَا آتَاهُمُ اللَّهُ مِن فَضْلِهِ هُوَ خَيْرًا لَّهُم ۖ بَلْ هُوَ شَرٌّ لَّهُمْ ۖ سَيُطَوَّقُونَ مَا بَخِلُوا بِهِ يَوْمَ الْقِيَامَةِ ۗ وَلِلَّهِ مِيرَاثُ السَّمَاوَاتِ وَالْأَرْضِ ۗ وَاللَّهُ بِمَا تَعْمَلُونَ خَبِيرٌ
Quran's Tafhim ( explanation)
*127)
. Everything in the heavens and the earth belongs to God alone. Hence the possession and use of anything by man is purely transient. For everyone will be dispossessed of his temporary belongings, and everything will ultimately return to and abide with God. If anyone therefore spends openheartedly in the way of God out of his temporary possessions he does so from property which, ultimately, belongs to God alone. Anyone who hoards his possessions and fails to spend them in the way of God is indeed stupid.