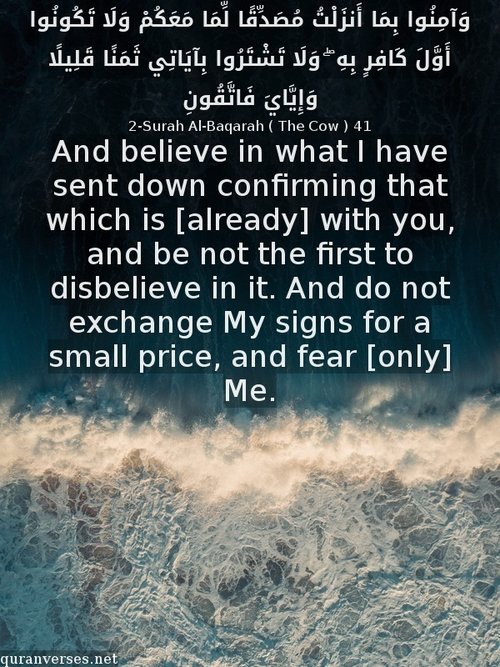 2-Surah Al-Baqarah ( The Cow ) 41
And believe in what I have sent down confirming that which is [already] with you, and be not the first to disbelieve in it. And do not exchange My signs for a small price, and fear [only] Me.
وَآمِنُوا بِمَا أَنزَلْتُ مُصَدِّقًا لِّمَا مَعَكُمْ وَلَا تَكُونُوا أَوَّلَ كَافِرٍ بِهِ ۖ وَلَا تَشْتَرُوا بِآيَاتِي ثَمَنًا قَلِيلًا وَإِيَّايَ فَاتَّقُونِ
Quran's Tafhim ( explanation)
*57)
. 'Trifling gain' refers to the worldly benefits for the sake of which they were rejecting God's directives. Whatever one may gain in exchange for the Truth, be it all the treasure in the world, is trifling; the Truth is of supreme value.