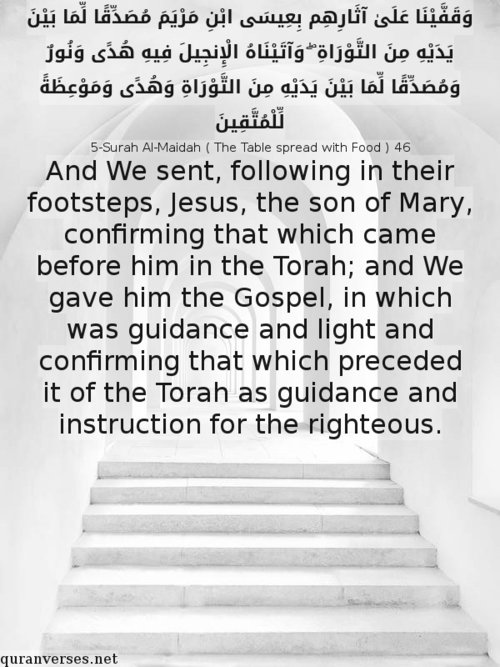 5-Surah Al-Maidah ( The Table spread with Food ) 46
And We sent, following in their footsteps, Jesus, the son of Mary, confirming that which came before him in the Torah; and We gave him the Gospel, in which was guidance and light and confirming that which preceded it of the Torah as guidance and instruction for the righteous.
وَقَفَّيْنَا عَلَىٰ آثَارِهِم بِعِيسَى ابْنِ مَرْيَمَ مُصَدِّقًا لِّمَا بَيْنَ يَدَيْهِ مِنَ التَّوْرَاةِ ۖ وَآتَيْنَاهُ الْإِنجِيلَ فِيهِ هُدًى وَنُورٌ وَمُصَدِّقًا لِّمَا بَيْنَ يَدَيْهِ مِنَ التَّوْرَاةِ وَهُدًى وَمَوْعِظَةً لِّلْمُتَّقِينَ
Quran's Tafhim ( explanation)
*76)
.The Messiah did not expound a new religion. That very religion which had been the religion of all the Prophets was also his religion, and it is towards that religion that he called people. He believed in the true teachings of the Torah which were extant in his time, and the Gospels (Injil) confirm this (see, for example, Matthew 5: 17-18). The Qur'an repeatedly stresses the fundamental fact that none of the Prophets of God, no matter in which part of the world they appeared, denied the Prophets who had preceded them. On the contrary, each Prophet confirmed the message of his predecessors and sought to promote the mission which was the sacred legacy of them all. God did not reveal any of the Books in order to repudiate the previous ones; each confirmed and supported the preceding ones.