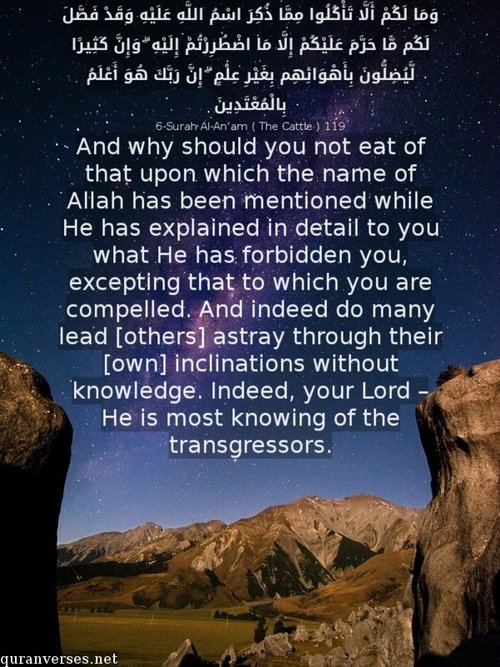 6-Surah Al-An'am ( The Cattle ) 119
And why should you not eat of that upon which the name of Allah has been mentioned while He has explained in detail to you what He has forbidden you, excepting that to which you are compelled. And indeed do many lead [others] astray through their [own] inclinations without knowledge. Indeed, your Lord – He is most knowing of the transgressors.
وَمَا لَكُمْ أَلَّا تَأْكُلُوا مِمَّا ذُكِرَ اسْمُ اللَّهِ عَلَيْهِ وَقَدْ فَصَّلَ لَكُم مَّا حَرَّمَ عَلَيْكُمْ إِلَّا مَا اضْطُرِرْتُمْ إِلَيْهِ ۗ وَإِنَّ كَثِيرًا لَّيُضِلُّونَ بِأَهْوَائِهِم بِغَيْرِ عِلْمٍ ۗ إِنَّ رَبَّكَ هُوَ أَعْلَمُ بِالْمُعْتَدِينَ
Quran's Tafhim ( explanation)
*85)
. See Surah al-Nahl 16:15. We may observe in passing that this allusion indirectly establishes that Surah al-Nahl was revealed before the present surah.