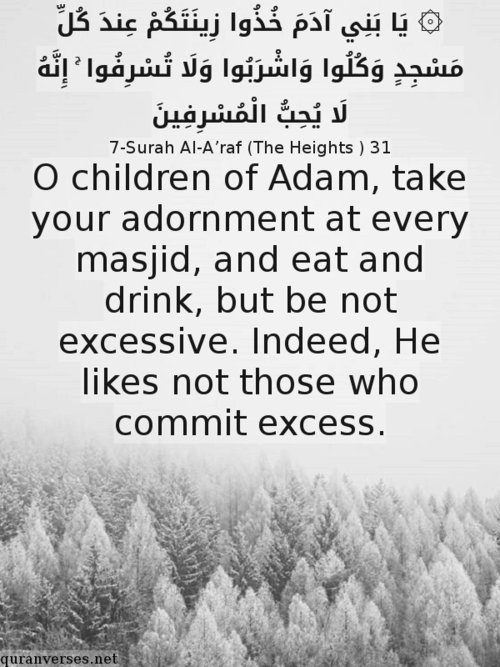 7-Surah Al-A'raf (The Heights ) 31
O children of Adam, take your adornment at every masjid, and eat and drink, but be not excessive. Indeed, He likes not those who commit excess.
۞ يَا بَنِي آدَمَ خُذُوا زِينَتَكُمْ عِندَ كُلِّ مَسْجِدٍ وَكُلُوا وَاشْرَبُوا وَلَا تُسْرِفُوا ۚ إِنَّهُ لَا يُحِبُّ الْمُسْرِفِينَ
Quran's Tafhim ( explanation)
*20)
. The word zina which occurs in this verse refers to full and proper dress. While performing Prayer people are required not only to cover the private parts of their body, but also to wear a dress that serves the two-fold purpose of covering and giving one a decent appearance.
The directive to pray in a proper and decent dress is aimed at refuting the misconception entertained by ignorant people down the ages that man should worship God either in a nude or semi-naked state, or at least have a shabby and unkempt appearance while worshipping. In this verse people are being told the opposite of this. At the time of worship they should not only be free from all kinds of nudity and indecency, but should also be in a decent dress.
*21)
. God does not want to subject man to want and misery or starvation or to deprive him as such of the good things of this worldly life. On the contrary, it pleases Him that man should appear in good decent dress and enjoy the clean food provided for him by God. There is nothing sinful in that. As for sin, it consists in transgressing the bounds set by God. This transgression could be committed in both ways: by making the unlawful lawful, or by making the lawful unlawful.